McNatt's Cleaners FAQ
If I drop my clothes off in the morning, when can I pick them up? 
At our Drop stores the normal service is:  in by 9:00 AM. out after 5:00 PM.   At Plant locations: in by 12:00 PM out after 5:00 PM.   Orders due on Saturday will be ready after 4:00 PM.  Orders brought in after cut-off time will be ready the next business day after 5:00 PM.    
Holiday hours and service may vary.  The Downtown location is closed on Sat..  Household and specialty items may require additional time to process.  We are closed on Sunday. 
Can I get my cleaning done on Saturday?
Yes, we open for business and clean on Saturdays too; and all orders due on Saturday will be available for pick up after 4:00 PM.
If I need my clothes faster is there an extra charge? 
Please ask if you need your order faster and we will try to if possible at no extra charge. Plant locations offer Special 2 Hour Service until noon.
If I get a bad stain on my clothes, should I put soda water or hair spray on it?
No. Being very careful not to rub, gently blot with a clean, using a dry tissue or absorbent cloth. Please bring the garment in for cleaning as soon as possible to prevent setting or oxidation. Try to keep the garment away from excessive heat, i.e. the trunk of your car.
How can I get heavy starch in my shirts?
The largest factor in getting shirts to accept starch is cotton. 100% cotton blend shirts are the only shirts that can be heavily starched. The polyester in blended shirts cannot accept starch at all, so that even a 15% polyester blend will not starch very nicely. Secondly, the heavier, oxford cloth type weaves allow heavier starching than the finer pinpoints.
My clothes are expensive; does regular dry cleaning make my clothes last longer?
Yes, dry cleaning removes sharp surface particles, which are abrasive to fabrics. Washing with water causes individual yarns to swell and then contract, which is a main cause of wear. Dry cleaning, however, is a surface cleaning process, which does not advance wear.
Does it cost extra to get same-day service?
No, same day service is our standard—even on Saturdays!
Do you have any drive-thru or curb service locations?
Yes, 16 of our locations have been specially designed for this extra convenience.
Does it cost extra to have business shirt buttons replaced?
No, we stock custom buttons by the gross to match most all styles and colors. Our expertly finished shirts come with complimentary collar supports too.
Can you dry clean my fine silk and linen garments?
Yes, McNatt's Cleaners is a professional dry cleaning service and is famous for its expert silk and linen finishing.
Do you offer alteration and tailoring services?
Yes, at all 21 locations. Call (813) 237-8861 to schedule a time and location for fittings.
Do you clean draperies?
Yes, please allow a few extra days processing time.

Do you clean leather and suede?
Yes, please allow for extra processing time, especially for smooth leathers.
Do you clean bedspreads and comforters?
Yes, McNatt's Cleaners can clean most all household items. Extra processing time may be required.
Do you offer wedding gown preservation?
Yes, both wedding gowns and heirlooms are expertly boxed, sealed, and preserved. Please allow a few weeks processing time.
How often is your cleaning solvent sterilized?
McNatt's Cleaners uses the most technically advanced equipment, which actually distills the operating solvent during each and every cleaning cycle. Additionally, all of the solvent receives a second distillation on a daily basis.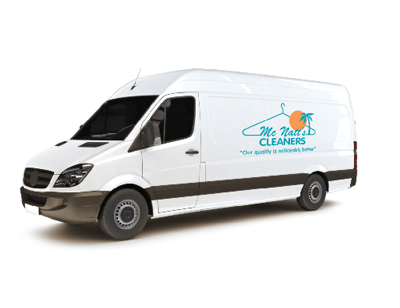 ---
For professional dry cleaning services for your clothing or household items, contact McNatt's Cleaners in Tampa, Florida to request a service.